Helpful Tips and Troubleshooting
Here are some steps to troubleshoot your unit:
Make sure your refrigerator is level before operating.
Is your 12 volt battery fully charged?
Have you tried the refrigerator on gas and electric?
Have you installed the gas flue baffle from the old cooling unit into the replacement?
Are the cooling unit coils getting warm? (check the outside access door)
Are the door gaskets good? (dollar bill test)
Is the vent top obstructed? (bird's nest)
Did you apply mastic on exposed tubing before installation?
Are the freezer and refrigerator screws that secure the cooling unit tight?
Is the electric heating element in the heater sleeve, and not just loose in the insulation?
Is the heating element good? Have you checked it?
Is the bottom boiler cover properly positioned?
Have you hotwired the heating element to hook the cooling unit up directly, bypassing the controls?
After trying all of the above tips, if the cooling unit is not performing please gather the following information and call Nordic Cooling Units at 641-322-4888 for further warranty assistance:
Nordic Model #
Nordic Serial #
Installation Date
Model and Serial Number on Core Return Tag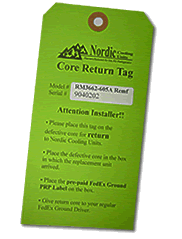 Model and Serial Number on Absorber Tank